Star Wars fans, once again it's that most magical time of the year: Time for the Disney's Hollywood Studios Star Wars Weekend Hyperspace Hoopla!


Yes,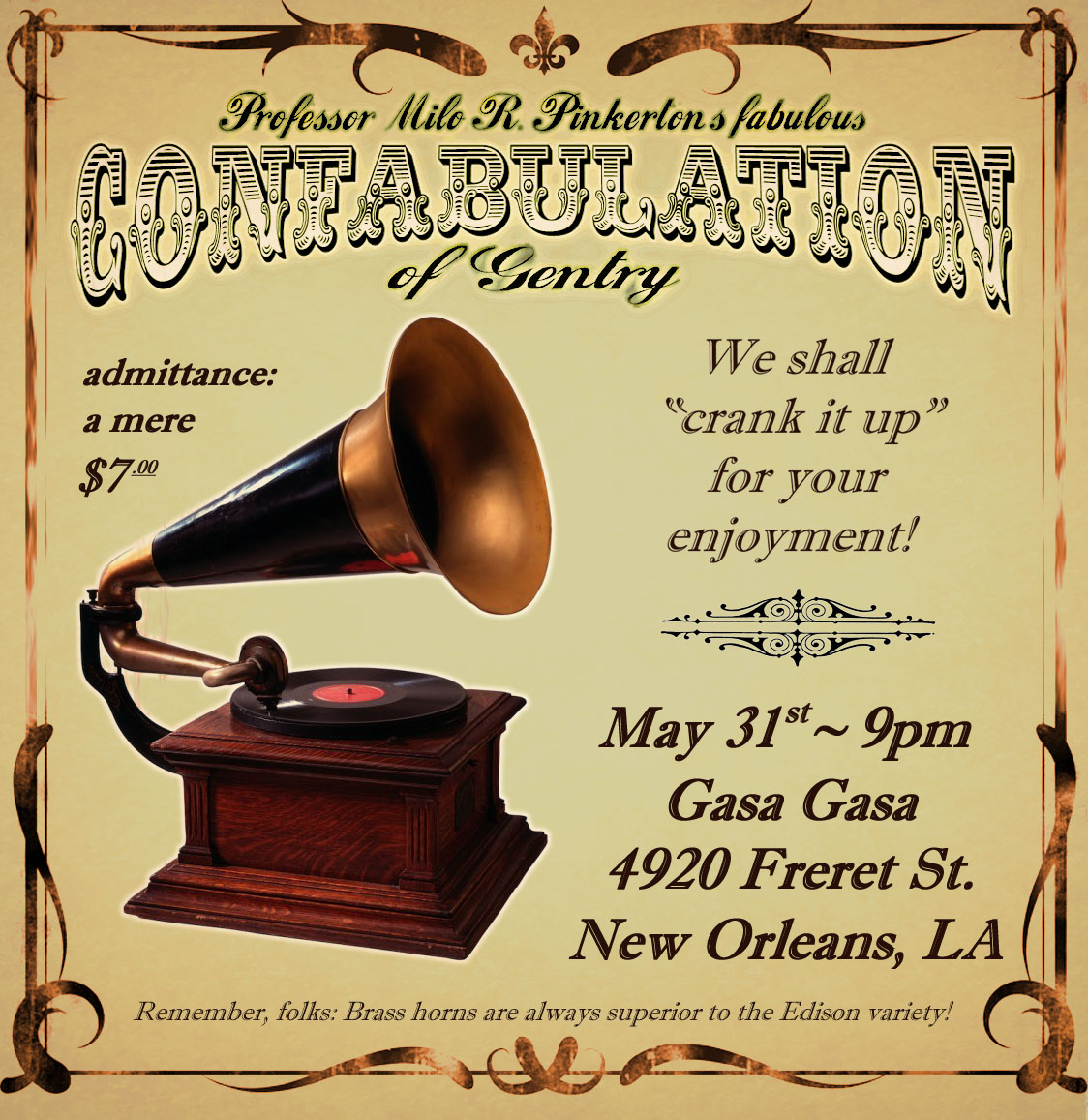 As we rocket toward 'NOLA Time Fest' at the end of June, I'm taking a brief detour to the Steamier side of things, where we'll be debuting a new lineup of the '
Confabulation of Gentry
' (the 1912 version of COG.) Among the changes are our new tuba player
Artimus
and our new trumpet playing sensation
Stanley
.
We're also trying a new approach by utilizing various circus and vaudeville style acts in between musical numbers, rather than a standard opening act. If you live in the New Orleans area, you should come see this antiquarian spectacle!
This is going to be presented at one of New Orleans newest music venues, '
Gasa Gasa
', a coffee shop/art gallery on Freret St. that just got a major renovation, with all sorts of interesting video sculpture and light art dyamically decorating the walls, and a state of the art sound system for the stage. If there's one thing I love, it's new ideas, and the people in charge of this venue seem to be brimming with them!
Thanks to WildCard9, Game Collector, Man in the Black Hat, MrTuesday, and Gremz for joining me on the show!

"Weird Al" Yankovic - I Love Rocky Road
Tenacious D - The Road
Carrie Dahlby - Roadtripper
Tony Goldmark - The Road!
Devo Spice - Road Ragin'
They Might Be Giants - Road Movie To Berlin
---
THE VIDEO GAME NEWS
---
Schaffer the Darklord - Pixelated Vixen - Requested by Raimi Syaka
brentalfloss - Meet Me in the Dungeon, Dear
MadHatter - Overheat
the great Luke Ski and Doug Walker - The T-Rex Song
Dr. Steel - Build The Robots
Mikey Mason - Best Game Ever
---
Z AND THE SKYPERS CHAT
---
Neil Patrick Harris - Drive Us Bats
Devo Spice - I Am The Doctor
The Firm - Star Trekkin'
The Consortium of Genius - Science Fight
Ninja Sex Party - Best Friends Forever!
Cirque du So What? - Ajax Toy Company
---
THE LIST: The 10 Greatest Legend of Zelda Games In History
---
Meekakitty - Navi's Song (Hey, Listen!)
---
The Muppets - Closing Theme


Marc Gunn - Monahan's Mudders's Milk
Monty Python - How to Tell a Witch
Schoolhouse Rock - My Hero, Zero
Steve Goodie - 12 Signs of Swine Flu
Rob Balder - A stable Connection
Information Society - Burning Bridges
The Gothsicles - Eff the Sun
TMBG - Working Undercover for the Man
Tom Smith - Cheap-Ass Cyborg
Nena - 99 Luftballons
Dr. Steel - Build the Robots
TV's Kyle - Electric Shock
Baldbox - This Could Be The Day
Twin Sister and PB & J - Jawa
Arrogant Worms - Idiot Road
Caravan Palace - Panic
Ookla the Mok - Mr. W
Tom Smith - Badger Pajamas
Luke Ski - I Want to Be Steve Buscemi
Paul and Storm - Opening Band
Robert Lund - Bangin' Paris Hilton
HGTTG - Vote Beeblebrox
Tom Smith - On the PC
TV's Kyle - Break My Face
Whatfor - When Speaking is Hard
Mikey Mason - Beer Powered Tim Machine
Seamonkey - Onry Handjob
Raymond and Scum - Amy
Smile.dk - Someday
Positude - Neighborhood of Make Believe
Weird Al - I Think I'm a Clone Now
Voltaire - Cannibal Buffet
Here's tonight's playlist!
Current Mood:

melancholy

Current Music:

HGTTG: Vote Beeblebrox
(
spoilers for Extremis storyline in comics
Collapse
)
I would much rather read about
(
spoilers for Extremis storyline in Iron Man 3
Collapse
)
More Pepper feels later. But after hunting down Pepper fics set post Iron Man 3, I'm cranky about fandom. (I know, this is a shock.)
Thanks to any author out there who writes Pepper and Natasha friendship (or shipping, yes please), though.
This entry has been
cross-posted
to Dreamwidth (
comments). Comments are welcome on either post.
First off, I wish that people on the ao3 would stop tagging their Marvel comicsverse stories with Avengers (2012), Iron Man - Movies, or Marvel Cinematic Universe. Because I do not want to
must do
- is share a few thoughts from my first viewing of
Star Trek into Darkness
. (These are my first, preliminary impressions; I'll see it again tomorrow, and my thoughts no doubt will develop further.)
General and Relatively Spoiler-Free Notes
* This film is an extended and deeply heartfelt love letter not only to the original
Star Trek
, but specifically to
Star Trek II: The Wrath of Khan
.
STII
is by far the best
Star Trek
film to date, and one of the best science fiction films of all time, and so I find this to be completely right and proper. I was deeply moved by the generous (and - dare I say it? - beautiful) nods to the previous film. I suspect some of the deeper resonances will be lost on viewers who aren't familiar with
Star Trek II
, but, let's be honest: I couldn't care less. [See Footnote 1. Yes, this post has footnotes.]
* What absolutely makes this film, immediately, right out of the gate, and then throughout, is the remarkable and textured chemistry between Bruce Greenwood as Christopher Pike and Chris Pine as James T. Kirk. Greenwood steals every scene in which he appears, but he also draws a terrific performance from Pine, one that sells the very heart and premise of the rest of the film.
* Benedict Cumberbatch is, unsurprisingly, brilliant. His performance is exceptionally physical, from the details of each action sequence to the very manner in which he enunciates his words; in this sense, it reminds me most of
his performance as the Creature in Frankenstein
.
* Simon Pegg, bless you.
(
Now to the Spoilers!
Collapse
)
I'm back, and I have updates, but everything will wait for now. What I want to do - indeed, what I
Singles and Fiddly Bits
and so far virtually no downloads. 4 as of last night and it's been out a week. So please help spread the signal. We intend to do 3 more of these before Susan moves away.
We want this music to get heard. It's pay what you want, so DL it for free. Just DL it and tell others about it.
Out Of The Light - Trio version. The CD version was a full band, so it was missing Susan's marvelous gamba part. This is how we do it live.
A Song About Fog - Maybe Lizzie's loveliest melody. Susan's viola playing is gorgeous (if I do say so myself, and I do say so myself).
Coming up in the weeks ahead ...
Haunted - two versions - Kind of like Daughter Of The Red, the serious, lovely version and the brain melter version.
Catnyp / Narrow Way - A brand new song, only played out a few times so far. And a song for Adam Selzer's sadly unfinished Prospero and The Tempest Tossed project which turned out to be too eerie to leave to that project.
Village By The Sea / Witch In Your Story - Two Susan songs, these versions are fueled by Scotty Moore and Richard Thompson (on the first) and Slade (on the 2nd). I think maybe to her slight dismay.
We need your help to get the music out there. Take a listen, tell your friends.
This was originally posted on Dreamwidth, after which it wandered out to various other sites. Feel free to reply where ever you want. I should still see it.
We have released the first part of
(If you doubt this analogy, you've never seen hungry gamers descend upon free game food.)
I'm making shortbread for sure, a couple different types. Maybe some kind of vegetarian dish so that we have solid food. And I have a hummus-based chocolate dip that might be tasty, so here's to hoping that works out.
This entry has been
cross-posted
to Dreamwidth (
comments). Comments are welcome on either post.
HOORAY. Finally, a game that will allow me to bring food and won't get me absolutely while hordes of hungry gamers descend upon it and ravage everything like a plague of locusts.